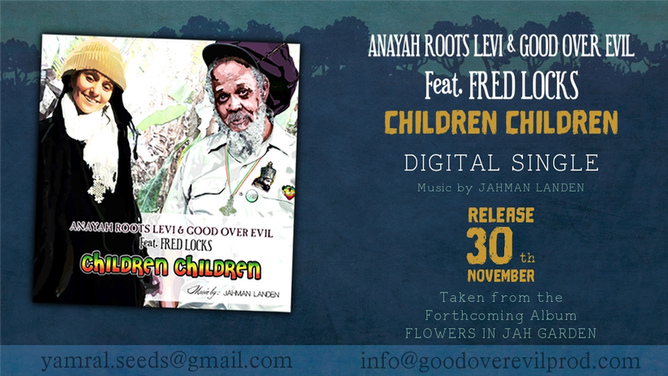 Blessed love!! It is a great pleasure and big joy to present that very very soon, this new single that gonna be released, which will be the pre-release of the album that is on the way: Anayah Roots Levy & Good over Evil - FLOWERS IN JAH GARDEN! CHILDREN CHILDREN is a tune of collaboration.
With the voices of the legendary Jamaican artist FRED LOCKS along with the mighty ANAYAH ROOTS LEVI from Sweden, together creating a lyrical and a crucial message, the instrumental is created by the producer JAHMAN LANDEN (Sweden), in the backing vocals the great voice of MONIQUE ¨ HARMONIQUE¨ SMITH (Jamaica), all live mixed by GOOD OVER EVIL and cover design by YAMRAL SEEDS.
We give thanks for this great collaboration, We give thanks to each and every one involved in this work. We Give Thanks for Life. Unity is the Key !!! Jah Rastafari !!! The single will be available on 30 NOVEMBER on all digital platforms.